We are pleased to introduce Safran Risk 7.2, which introduces a range of new features and changes to our powerful project risk analysis software.
With Safran Risk 7.2, we bring you the ability to perform integrated cost and schedule analysis within the same application.
Our latest download, Why Conduct Cost and Schedule Risk Analysis? with Dr. David Hulett, identified the common causes of cost and schedule overrun and discussed the benefits of combined cost and schedule risk analysis. But fully integrated and coordinated analysis is very hard to achieve without the correct software.
Safran has now addressed this by producing a single application that includes all three critical components (Project Schedule, Duration Risk and Cost Risk).
You can see how these have been integrated together into the existing risk model here: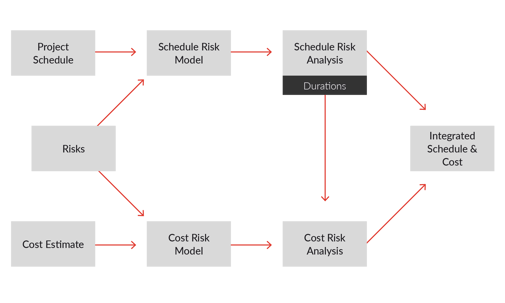 You can now perform cost-only risk analysis right from the Pre-Concept, Concept and Feasibility stages. And this cost risk information can easily be incorporated with schedule information to create an integrated schedule and cost risk model that builds on the team's existing knowledge and understanding, without the need for complicated resource loading of the schedule.
Watch the Safran Risk 7.2 Introductory Video to see how Safran Risk can be used throughout the whole project lifecycle with these new features:
The new capability of Safran Risk 7.2 allows a full range of integrated cost/schedule risk operations - from maintaining a simple list of risks in a spreadsheet to performing a detailed quantitative risk analysis, for both schedule risk and cost risk.
For a complete picture of all the features and benefits of Safran Risk, try it free now.