Safran Integrator for SAP
Safran Integrator for SAP provides integration between Safran Project and SAP Project System. Gain access to Safran's powerful reporting and analytics tools, benefit from improved schedule visibility and enjoy additional unified project management capabilities for capex and opex.
Improve Effectiveness with Unified Systems
For most customers, SAP maintains the master data for any project – while planners and project managers can unlock the powerful analytical capabilities in Safran to optimize the schedule quickly and effectively.
Project stakeholders can analyze previously disparate data sources for more accurate operational planning, whatever the use case – complex manufacturing, capital projects, shutdown and turnaround, or outage planning – all on a single integrated platform.
With Safran Integrator you can align Safran Project with SAP project management software, so data flows seamlessly between projects and headquarters, in one unified system.
And with heightened performance specs, you'll be able to manage and report on projects of any size, juggling large volumes of data quickly and efficiently.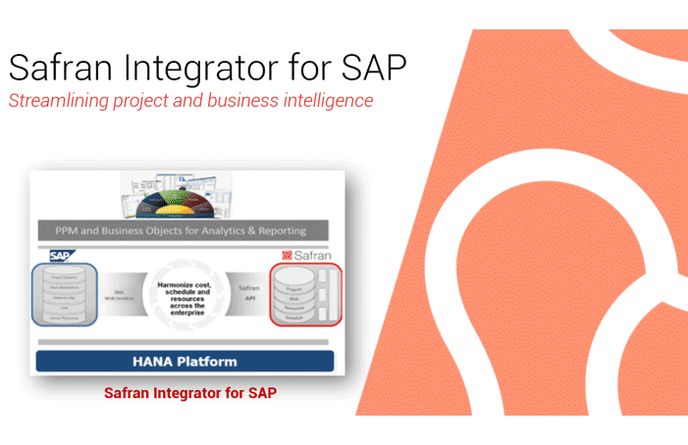 Integrated
Project Planning
and SAP Project
Risk Management
As a leading provider of project planning, scheduling and risk analysis solutions, Safran makes it a priority to design software solutions that integrate seamlessly with the planning process. Our relationship with SAP gives our customers in project- and asset-intensive industries more power and control over project outcomes.
Integrate with SAP
The Integrator fully integrates Safran Project with SAP Project System and other modules as required. As such, it is approved and tested to operate in both SAP and Safran applications. Project budgets, WBS structures, work packages, resources and other related data are automatically shared between our applications without delay.
Users can also import Primavera and Microsoft project files from contractors and suppliers for inclusion in the Safran schedule. There, they can gain full visibility into resource requirements for all work, while also evaluating the potential risks in Safran's central and intuitive scheduling engine.
Powerful Analytics and Reporting
Shine a Light on Project Scheduling
Reinforce Decision Making
Why Safran Integrator?

Scalability
Effortlessly scale with any project's needs. Data transfer is optimized so information moves quickly in either direction between SAP and Safran, for even the largest projects.

Usability
Our mantra is "push the button – get results" for easy operation and intuitive error handling.

Support
Our professional consultants are always available to help install and configure and to provide training to all types of users.

Technology
Integrator utilizes the latest technology to help ensure upward compatibility for future releases of both SAP and Safran. Safran is itself HANA compliant.
Get More out of Both Safran and SAP
With Safran Integrator you can benefit from both Safran and SAP solutions, so project challenges can be identified and resolved faster—which, in turn, directly affects project performance and corporate margins.