Complex projects don't just stop. Even in times of uncertainty, organizations can't simply stop executing a three- or four-year project because employees are now working from home. Safran software enables enterprises to continue their work unabated, helping teams stay connected and manage risk.
Large-scale projects require day-to-day management of risk, schedules, and other variables. This kind of requirement necessitates regular staff meetings, potentially across the globe. In times like these, project managers and planners have a more important role to play than ever. Projects need to be carefully planned and baselined, with risks being identified and mitigated at all times.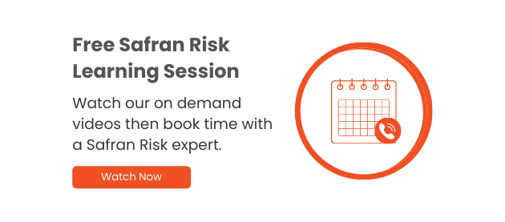 For a condensed look into how you can conduct comprehensive risk workshops while your workforce operates remotely, we've created an in-depth presentation. Presented in an easily digestible format, we break down the reasons why you need risk workshops and how you can perform them effectively - even when working from home. Download our presentation to read in full.
Our video webinar, meanwhile offers a more extensive insight into how our software can be adapted to help you work remotely. Hosted by Safran CEO Richard Wood, discover how Safran has been designed to effectively support employees working from home and how risk management on projects never has to stop.
Safran software has been designed to be able to accommodate employees working remotely. Everything can be managed virtually, from meetings to workshops. This keeps vital communication channels open, bringing team members together as though everyone was in the office.
How Safran Software is Designed to Help
Safran's software is tuned to support your ongoing projects. Monthly reviews can be held online to keep existing risk registers updated, while larger workshops bring key disciplines together. Our software keeps your clients, sub-contractors, and supply chain in one place. All of this can be achieved virtually.
SENSITIVITY ANALYSIS
The sensitivity analysis method has been implemented into Safran Risk to display risk impacts in the 'language of business.' This shows risks in terms of time and cost, making it immediately useful for business owners.
Our approach allows you to clearly articulate potential 'what if' scenarios with business owners in the confidence that they understand the issues, it also enables you to produce a tangible recommendation that provides real value.
FILTERING OPTIONS
Safran Risk's scheduling options give you control no matter where you are. Filters can be set up in advance, which allows you to focus on the risks that are being mapped onto the schedule. Everyone invited to the virtual session can discuss the specific filtered topic. This makes it ideal for smaller sessions about specific disciplines.
Rather than trying to get your entire workforce together for an online meeting, directly pinpoint who you want to talk to about certain subjects with the filtering tools. This allows you to create the perfect audience for a virtual meeting. Importantly, people attending workshops understand what the workshop is about before it begins, giving them time to prepare and assess its usefulness to them as an individual.
INSTANT FEEDBACK
Safran Risk presents feedback immediately and in an easily digestible format, utilising the traditional 'S' curve and histogram method. This communicates useful information to customers quickly. Each risk has a distribution assigned to it from the risk register. These distributions update in real-time, giving audiences instant feedback.
While people may not have wanted to attend workshops in the past, the instant feedback delivered online through Safran Risk is both tangible and actionable, giving workshops added value.
Changing Habits for the Future
Organizations around the world are currently being forced to adopt new ways of working. Safran software is helping people in the risk community to form beneficial, new habits.
We hope to inspire people to go to workshops and to bring these new habits and learnings with them into the risk community. Watch the webinar to discover how customers will be able to effectively use Safran software while working from home and how it will help shape future approaches to risk management.