Many Risk Management practitioners tend to stop the Schedule Risk Analysis (SRA) once the P Dates have been reported. In the video below, Santosh Bhat demonstrates how Safran Risk, with its embedded scheduling engine, can address project disruptors that go Beyond the P Dates.

In doing so, Santosh creates a holistic picture of potential project delays and insights. Putting these detailed risk analyses into the hands of executive stakeholders means they will be able to make informed decisions about how to steer the project to completion and enable Project Risk Managers to address the most significant risks & uncertain variables.
The Challenge of Balancing Supply and Demand Project Disruptors on Project Delivery
In the August 2021 Blog by Alexander Larsen, advocated that "the risk management professional must use the data to tell a positive story about how SRA can help solve problems and support their vision of success".


In the 'Beyond the P Dates' video at the bottom of this page, Santosh Bhat verifies that the 'as-planned' start up of precast wall lining segments for a tunneling project is adequate to keep pace with the consumption demands of the tunnel boring machine. At first glance, the planned start up 4 months ahead of tunneling looks adequate but, as Santosh shows, it's adequate but only just!
Typical Output of Risk Analyses
The typical output for most quantitative risk analyses is based on the P-Number that your organization has selected (anywhere from the p50 to p90 confidence interval is common). Perhaps your organization reports on a few key milestones, or maybe you produce a report that includes a risk distribution curve showing the results for those particular milestones.
How would you handle project disruptors like the challenge of balancing supply and demand for the tunnel collars on a railway tunnelling project? What about ramping up scarce design labor resources if you're fortunate enough to win all the bids for which you've tendered?
Large projects invariably encounter obstacles, and enhanced risk modelling tools can provide insight into the consequences of schedule delays.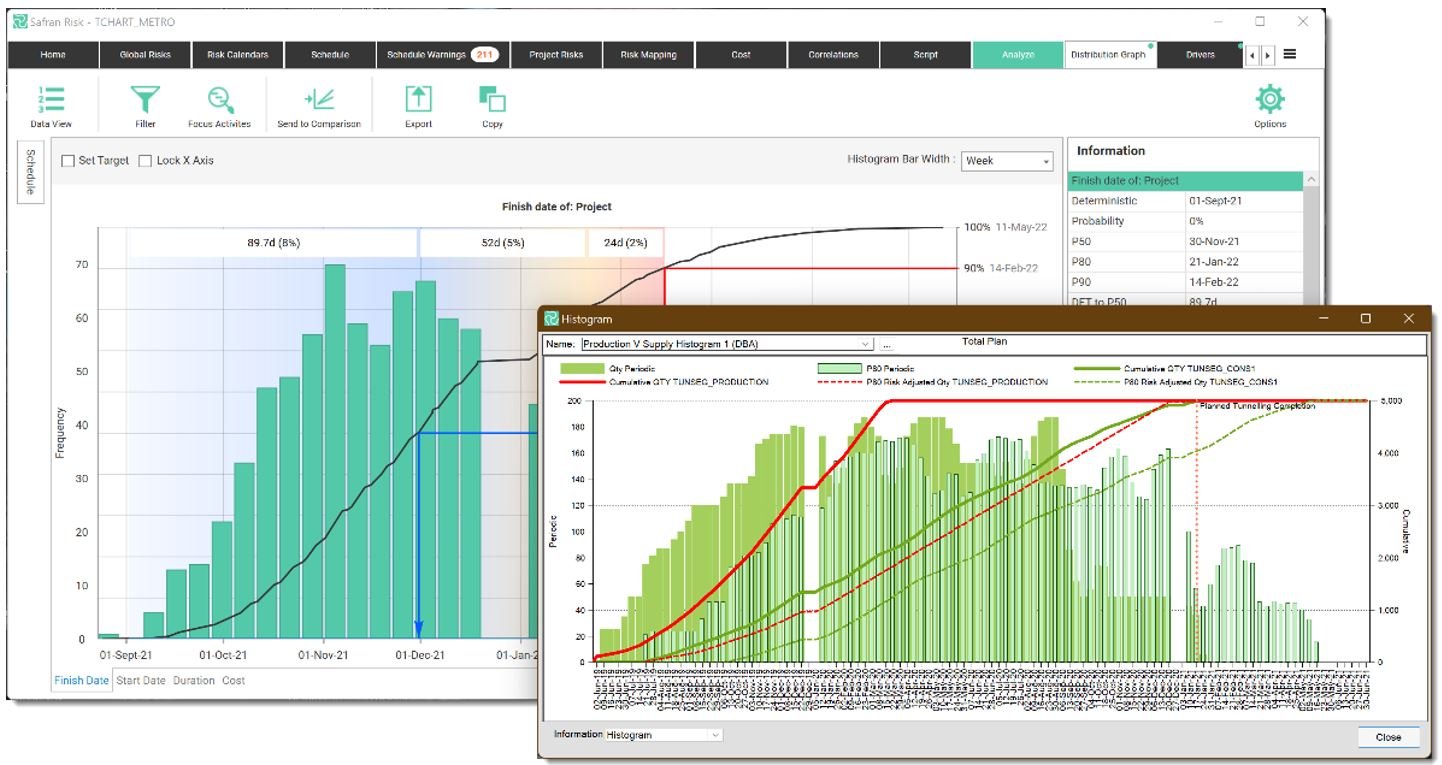 Histogram Showing Confidence of Supplying Resources and Project Completion
Gaining a Deeper Understanding of Project Disruptors
Ultimately, Project Risk Managers want to gain a deeper understanding of the risks that are modelled, the impact of changes made to any of these variables, and the results that may be achieved on their projects. Safran Risk has been developed to address this specific requirement, enabling Risk Managers to capture greater detail and facilitate a broader stakeholder understanding of a project's risk landscape.
Safran Risk can do more than simply present final P-Dates for analyses. With Safran Risk, it's easy to run simulations using a selection of risks, and freedom to change all input values to learn how the real project might behave.
Safran Risk is also more than a Monte Carlo tool. The software is built with a powerful Risk Scheduling system, which means that it can also carry out 'resource levelling'. Resource Levelling allows you to set a limit and rules for a scheduling system that's based on resource capabilities and constraints, which means Safran Risk is a critical tool for discovery of what happens if project resources are limited, stretched and exceeded.
Watch the Video Webinar
This video webinar is presented by Peter Iredale, the Director of Business Development at Allinno and Santosh Bhat, Allinno's Risk Practice Director.
Click the link below to see how Safran Risk creates a complete picture of potential project delays and insights.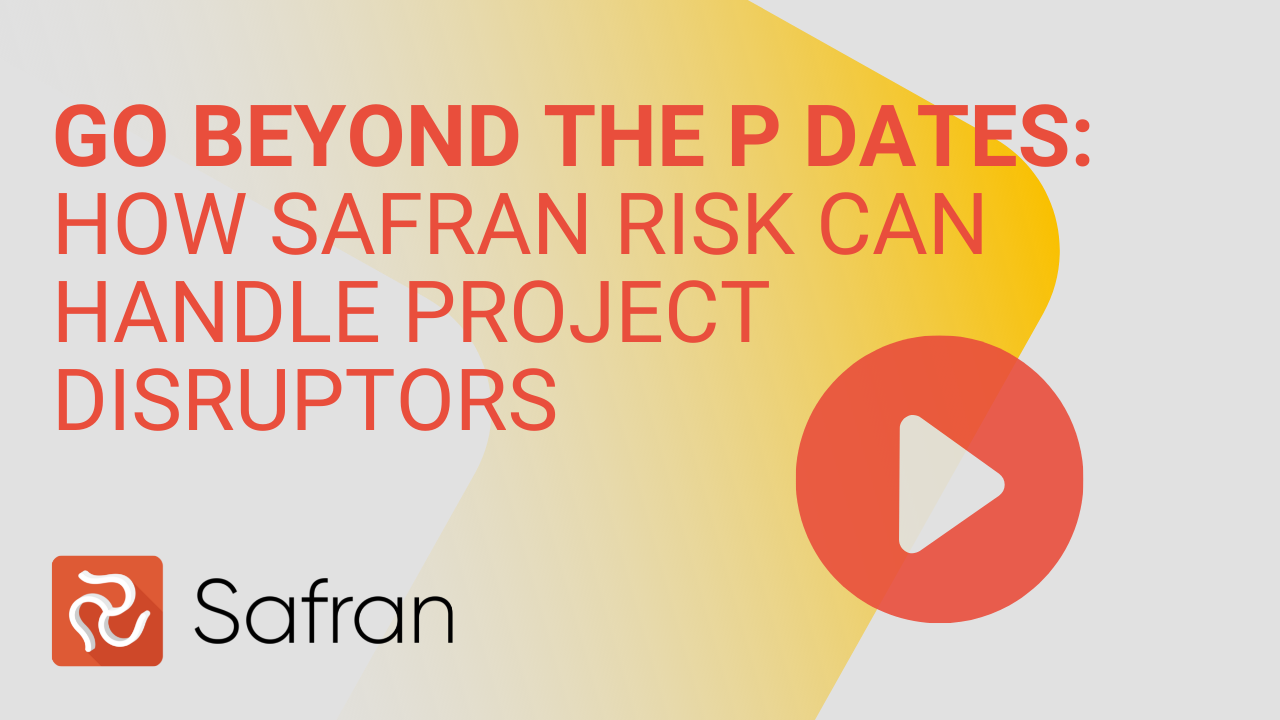 Bios:
Peter Iredale – Director of Business Development, Allinno
With a 34-year track record in IT, Peter has helped organisations deliver better business outcomes by identifying and implementing ways to improve their program and project controls. Peter founded ALLINNO with three industry veterans to enable project intensive industries achieve better outcomes through the adoption of skills and systems, guided by alliance and innovation. In fact, the company name is derived from the two words "alliance and innovation".


Santosh Bhat- Risk Practice Director, Allinno.


Santosh Bhat is Allinno's Risk Practice Director. He has more than 20 years of experience in Planning, Scheduling and Schedule Risk Analysis (SRA), from rolling out SRA disciplines across a multinational construction company to several years as a SRA expert practitioner assisting many clients
Allinno Alliance and Innovation is a consulting company for government, financial, construction, healthcare, and mining industries. Allinno is a Safran distributor in Australia and New Zealand.
Using Safran Risk beyond the P Dates can help you to gather data and insights about risks that may impact your projects. For further information, watch Senior Risk Consultant Chris Ritson's four videos that explain why Safran Risk is a superior risk assessment product with its intuitive design and strong schedule risk analysis tools.
To see how Safran Risk can help you improve your organization's Schedule Risk Analysis, try a free trial.