Donna Festorazzi is Head of Programme Risk Management at Stantec and an internationally experienced risk management professional, with a multidisciplinary background. She believes that risk management insights should empower project teams to optimise delivery performance, rather than purely facilitate project-approval processes.
Identifying risks alone will not guarantee a project's success; the key is active risk management. By taking action to reduce the impact of specific issues and capitalise on opportunities presented, project teams can significantly improve their chances of securing the best possible outcome.
A staggering 80 percent of projects fail to meet their planned objectives (APM, 2015 Annual Report), so why is this? Risk management is often still carried out in silos, rather than in a cross-project, collaborative manner. Each project has its own risk manager, but if they fail to communicate effectively, the project could fail unnecessarily.
Rather than viewing risk management as a tick-box exercise for individual projects, risk managers should begin to see it as a means of optimising successful outcomes, whilst empowering senior decision-makers with new insights.
Changing the mindset
When managing projects, most risk professionals are focused on mitigation, compliance and visibility. However, in reality, there is much more to it than that.
For example, risk professionals may already associate their work with 'enabling' other activities, but this view might not be shared by senior stakeholders. It's not unusual to face resistance when communicating risk management messages and it can be a challenge to get key stakeholders onboard with any proposed changes, particularly if decision making requires understanding mysterious outputs.
For many years, risk professionals have been trying to integrate risk management into the performance management process. Rather than seeing it as tick-box exercise, that is largely there for compliance purposes, its true value as a project enabler deserves wider recognition.
Empowering stakeholders
Every project team knows that a risk register is essential to guide the project through each 'governance gate'. However, many still see this as a tedious form of compliance, to be carried out as quickly as possible, so the 'real work' can begin.
This tendency to rush the production of risk registers, or treat them in a perfunctory manner, means that they may lack the quality information needed to inform key decisions. Risk professionals understand that it is important to capture as much relevant data as possible, and it is this exacting approach that delivers the insights that ultimately allow the project to reach its full potential.
That's not to say that risk professionals should share every piece of information that they have with their clients, as this can be overwhelming. However, having a large pool of meaningful data to draw upon can help to manage projects in a more informed way.
Increasing risk appetite
There are two main areas that assist with risk management adoption - governance and performance management. Here are three ways these can be used to increase stakeholders' appetite for risk management:
Instead of operating governance gates as compliance and assurance checks, risk professionals should work with stakeholders to transfer skills and support them in passing future gates with confidence. Building in time for risk mentorship to take place at each gate will ensure teams are set to succeed and equip staff to take the baton forward and lead the way to the next gates.


Discussing risk management in workshops or meetings for hours on end is unlikely to inspire stakeholders. Instead, a more collaborative and constructive method should be taken. For example, by joining the project team during their performance reviews and listening to the key areas and topics that are being discussed, risk professionals can ensure the risk register drives the insights that matter most. This can then be used to show senior stakeholders the benefits of a well-managed risk register. In this way the risk professional is seen as a vital part of the team, rather than just a facilitator.


Senior stakeholders regard performance management as critical because it is about optimising metrics that they themselves are often measured against - most often cost, time and safety targets. Yet these are exactly the metric types that risk management protects. So why not make risk management a key component of "performance management"? This enables project risk management to be placed higher up executives' agendas, where it deserves to be. Unifying project risk management and performance management is an important step on the route to project success.
Each of these examples also enhance risk culture in an organisation, leading to better results overall.
The role of risk analysis tools
Quantitative risk analysis tools, such as Safran Risk, play an important part in interpreting and understanding the data captured throughout a project.
Having a robust system in place to capture and analyse risk data enables project teams to contribute towards performance meetings, facilitating a two-way conversation and further promoting project risk analysis as best practice.
However, risk professionals shouldn't rely on tool outputs to dictate the risk management process. Unless the data can be communicated effectively, it has little value. Being data rich but knowledge poor is never helpful. This is where risk managers must step up to the plate and prove their value by listening to ever-changing project priorities and tailoring insight from risk analysis tools to support relevant, timely decisions.
My favourite inspirational quote for risk professionals is 'Be like water making its way through cracks. Do not be assertive, but adjust to the object, and you shall find a way around or through it' - Bruce Lee
Biographical note: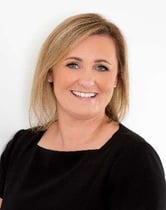 Donna Festorazzi is an expert in project, programme and portfolio risk management with 20 years global risk management experience. She is a certified fellow of the Institute of Risk Management, as well the Chair of the Scottish Regional Group. She has also completed an MSc in Risk Management and was awarded the title of Glasgow Caledonian Alumni Inspirational Leader.
Over the last seven years Donna has been recognised by both UK industry and risk management institutions, receiving awards for her ability to embed industry-leading risk management frameworks that break down silos to aid organisation-wide decision making. Donna's passionate, collaborative, and pragmatic approach assists her in uncovering areas for improvement in risk management practices, assisting fellow risk managers in increasing risk maturity and embedding change within their organisations.
To learn more about how project risk analysis can continue to drive up value in your organisation, read this 21-minute e-book "Journeymap to Project Risk Analysis" by David Hulett.